Our Apartments are Pet-Friendly!
Looking for pet-friendly apartments in Evansville, IN? Look no further than Pavilion Lakes Apartments! As one of the few pet-friendly communities, we proudly allow cats and dogs as part of our great amenities here at Pavilion Lakes. Now your pet has the opportunity to relax by your side and enjoy the comforts of your apartment home.
OUR PET POLICY
Pavilion Lakes allow dogs and cats.
Two pets per apartment home with a combined weight of 150 pounds are allowed per apartment home.
A pet addendum and vet records are required.
Pets may be dogs or cats but cannot be more than a total weight of 150 pounds. We do not accept Pit Bull, German Shepherd, Rottweiler, Wolf Dog, or any mix of these breeds. Property staff reserve the exclusive right to make the final determination as to dog breed.
Pets allowed without deposits: small birds, turtles, hamsters, guinea pigs, fish aquariums that are five (5) gallons or less. Note that deposits are required on large birds, including but not limited to: Parrots, Cockatiels, Sun Conures, or other birds often let out of cages.
The following pets are not authorized at Pavilion Lakes Apartments: snakes, lizards, sugar gliders, flying squirrels, chinchillas, ferrets, reptiles, amphibians, rodents, or venomous animals of any kinds.
The following are the owner's requirements: No pets allowed on new carpet or carpet less than two (2) years old, pets must be inoculated, proof of age, all deposits and fees must be paid on or before the date the resident takes possession of the apartment, and a separate addendum is to be completed and signed, and is considered as part of the Lease Agreement.
PET FEES
Pet: $35 monthly pet rent per pet + $400 one-time nonrefundable fee for one pet
For further details on our pet policy, please contact our office staff.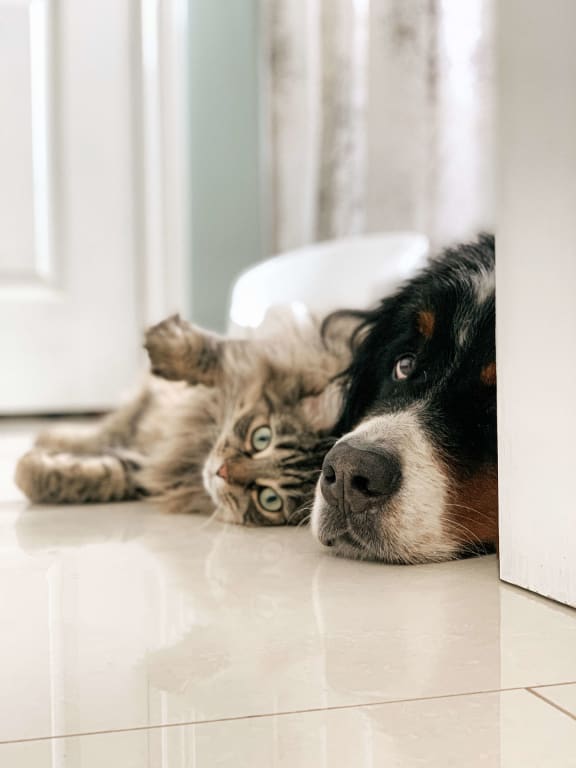 Testimonials
Pavilion Lakes is awesome! There's lots of space, and we love opening up those beautiful french doors onto the lake! Their town homes have huge fireplaces, nice sized patios and are really well maintained and updated with modern appliances!

- Google Review
Nice quiet place to live! Very kid and pet friendly and management is great! They are always 0n top of any questions or concerns. Keep up the good work guys!

- Google Review
I loved our townhouse it was great. Great location around everything good staff that worked there and the salt water pool was awesome.

- Google Review